Spa Tub Surround
Second to my dishwasher, I consider my steam-whirltub the most valuable convenience I have. Being a R.N., the steam tub to me is not a luxury but a necessity. After walking for 9-10 hours at Chicago Merchandise Mart for or with a client, I would find myself at 2 a.m. unable to sleep due to leg aches from the day. Within 20 minutes, the jet action of the water had removed all aches and pains. In '96 I converted an 11'X12' room in our basement to a steamtub/exercise room in order to begin testing the products I planned to market. The steam "room" (inside sliding glass doors measurement) is 33 1/2"x86". It includes a 72" whirltub, a shower for cool down, a steam unit for 120 degrees, and a 14" seat.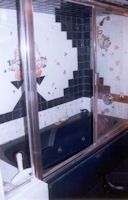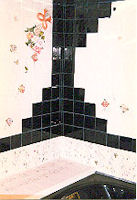 Purpose for seat is
To allow an area to sit, if preferred, for sauna after taking initial whirlbath. After tub is drained, you can also choose to recline in tub for sauna and have cool down shower to regulate body temperature without ever leaving the tub unit. This allows for total relaxation and maximum steam to remain in unit.
Storage inside tub for lotions, oils and other needed toiletries. (Plus my cup of tea with thermos.)
Unit is in the basement so I can operate the jets at any hour and not disturb the rest of the family. The tempered glass doors allow a comfortable temperature to promote perspiring as well as keep steam in unit around body so maximum benefit is achieved for the hair, skin, lungs, and blood circulation. In your initial planning for this small steam "room" if the budget does not allow both a whirljet tub and steam unit, the project can be properly begun by having the long 72" soak tub installed with the Tempered clear glass doors. By running hottest water first the steam bath enjoyment can begin. Installers can add the jets as well as the steam unit at a later date to the installed tub. Having the jets does add additional steam when used and relieves sore muscles with the pounding water from the jets. The steam unit is capable of raising temperature to 120 degrees maximum heat. A former client, who is an air-traffic controller at a local airport found it necessary to have the 120 degrees to remove all the tension from her body after a stressful day. The steam unit has a safety feature of automatic shutoff after 20 minutes. Complete instructions as to wall preparation and tiling a steam room are available with pictures as I proceeded with the work myself, alone, at age 58 - I found it fun. You can too. My email is available if you need to ask questions as you are working on this project. If you can apply cold cream to your face and steam your drapes, you can apply and remove our easy to work with 3D relief tiles. A tub with 3 walls and attached ceiling to form enclosure is all that is needed. My specific instructions as to wall preparation must be followed so as to avoid problem of mold developing. Installed in 1996, there is no mold or problems with groutlines.
Hover over the images to enlarge them.
Front detail of tub surround

Tub surround relief tiles

Tub surround basket detail
The aesthetics of the Surround promote relaxation and a calming of the mind. An existing soak tub can be made into a steam "room." Surround can be decorated to suit any decor with our 3D removable flowers, leaves, horses, fish, shells, etc. If needed, a tile layout can be designed with our help. To help keep yourself relaxed in the tub for the needed 1/2 hr. - a remote controlled TV with a favorite tape, and a squeegee for the steamed glass will help those who just can't stay in one place for too long. Tiling is relaxing and fun. Any mistake can be reversed.
Hover over the tile images to enlarge them.
Mosaic floor layout.

Wall decorations and accessories #1.

Wall decorations and accessories #2.

Wall decorations and accessories #3.

Wall decorations and accessories #4.
The patented shower curtain/drape rod provides an attractive bath rod with our easy slide track. The rod was decorated with a strip of mosaic tiles wrapped to tie in the mosaic tiles used on the floor and the wall relief. Our custom designed relief tiles used for the wall surround can be applied to our rods for a beautifully well designed bath. The old tension rods are replaced with our rod, which will hold a shower curtain as well as the side drape. Rods can be custom painted. We make the tiles, you do the rest with DIY instructions, if you desire.
This idea received a U.S. patent in 2001 so it is protected from commercialization by any company other than my own.
These patents are available for sale or licensing.