Products & Pricing
In preparing this pricelist I have given an overall approximation of cost factors, since our work is all custom. It is my goal to continue designing for clients to achieve their desired designs with a price that is within their budget. The patented products presented in this website are a removable decorative relief tile and a PVC or wood rod with a slide track and decorative art applied.
---
AESTHETIC SPA TUB — STEAM THERAPY: When you wake up with muscle and joint aches, or have worked all day and ache, the relief for this is to speed up your heart rate to provide blood circulating throughout your body with your sweat glands operating full force as soon as possible. When you are tired, it is impossible to try and use exercise equipment to achieve this. The best way is to recline in a tub of water as warm as you can tolerate and let the steam build up. Breathe deeply and relax. I achieved this without using the jets this morning. This proves that you "DIY ers" who do not have the finances for the full Aesthetic Spa Tub can begin with your soak tub, 3 walls tiled around it and sliding plastic doors. I can advise you as to what is needed to protect your walls and what is needed to complete the tub so the steam is retained. With my knowledge of carpentry, it can be an easy and fun project. Simple relief tiles can be designed and applied for the necessary aesthetics.
I will take you step by step as to having jets added to your existing soak tub if you want a greater amount of steam which is always most beneficial. I had these jets added to my master bath tub, prior to building the Therapeutic Spa Tub. It is nice to have the jets for a muscle relaxer before bedtime when a quick bath is taken, but the steam is wasted. The ultimate bath is with the steam build up in my tub in the basement which is the Therapeutic Spa Tub.
There is grout care that is necessary to prevent mold, as well as proper care of the unit after daily use.
For the tub as shown in the home page, there is complete advice on how to build this. What doors are necessary for the higher temperatures achieved by the steam for safety.
If you are able to build your own Aesthetic Spa Tub (I did with the help of a son-in-law) or if you are able to subcontract a knowledgeable home remodeling company, or if you are a builder who wants to place an Aesthetic Spa Tub in a model home, it is vital to have the proper materials from the studding out in order to avoid problems later on. My tub has been in since 1996 with no problems with mold, or with any materials installed. None of these materials can be purchased at a local "do-it-yourself" store. They must be purchased from authorized tiling supply dealers, which I will provide the names of the materials in the packet. Photos will be included to show how I went step by step.
Advise on the type of tub, placement of jets, whether done custom or at the factory is provided. Type of faucet is advised as well as water stopper. Steam unit information is provided.
The cost of this packet is $60.00, shipping included, paid by check or money order made out to Interiors by J.C. Ltd., P.O.Box 127, Maple Park, Il. 60151. Residents of Illinois are to apply state tax of 7%. Free commemorative tee shirt included. Shipped by USPS with insurance and tracking. Please see tee shirt information at the bottom of the About Me page. Please fill out the form on the Contact Us page prior to mailing.
---
SPA TUB SURROUND: "Steam Room" – 72" tub with removable relief tiles on tub surround. Shower curtain rodding, in-tub towel shelving, wall accessories and decorating using ceramic relief and floor tiles. Mosaic floor "rugs".
Plans for tub wall/ceiling preparation, artwork, tiling $60.00. See Aesthetic Spa Tub to order. Includes several pictures of procedures as being completed.
Flowers $15.00 each.
Leaves $10.00 each.
Handle $25.00.
basket parts $5.00.
Bow $10.00.
Butterflies $5.00–$10.00 each.
DIY for mosaic rug layout and rod with spiral of floor mosaic tiles. Easy instructions $35.00.
---
ARTHRITIS PAIN RELIEF: I hope to help you to:
Rid your body of the killers you are putting into your mouth that are causing your body pain.
Detox using foods and liquids.
Be able to add back in foods you enjoy that are not causing you pain after being totally detoxed and feeling good. After adding foods back in, your body will give you an adverse reaction to the foods it knows will make it ache and sick again.
These are my recommendations:
The killers in your diet that you absolutely must eliminate 100% if you want to feel good.
Foods and liquids that must be eaten prior to any other foods in the morning in order to allow body to get rid of solid waste and acids that are causing discomfort to intestines and joints.
Detox aids. You will need a 2 qt. crockpot for an unending supply of broth to be kept on hand in refrigerator, as a base for several recipes your body will benefit from. Juicing recipes. A wild berry, free, you pick, to add to juicing.
Oils your body needs, inside and out, as well as for baking and cooking.
Foods that supply your body with much needed proteins and carbohydrates. Suggestions and recipes for 5 days of these foods for breakfast, lunch, and dinner. Recipes for comfort foods to snack on when necessary. Protein shake for 10:00am and 3:00p.m. Three salad dressing recipes and croutons to aid in eating the greens vital to feeling good.
Bread recipes for plain loaves, pizza crust, rye bread and high protein cornbread. Recipe for "Never Stick" pan spread.
Value of fasting, exercises, and vitamins.
To soy or not to soy. A dear Chinese friend raised in Beijing and I have shared our knowledge of working with soy, a high protein food. I have picked green soy beans and made edamame. I make tofu, tempe, soygurt, and soymilk. I will advise on the things to be careful of as far as using soybeans. I have benefitted from the last 4 years of adding soy to my diet. I developed a tofu cheesecake which I took to an authentic "Chinese potluck." It was the #1 thing enjoyed by them, and the recipe was requested. I also made a steamed chicken tofu custard that was a winner with them. These 2 recipes will be included plus the potstickers I have been shown how to make. Recipe for an authentic stirfry will be given. 'They do not mix everything in one wok like we do. The authentic Chinese eat healthy. Dandelion greens and radish tops were the greens used in the potstickers.
When a lot of medications are taken or foods eliminated from a diet, a hair loss may occur. Let me know if this has happened to you. I continue studying and trying different recommendations. Let's share on this one.
In order to eat the right foods, I feel it is best to show how to use the good foods instead of just giving a list of what should be eaten. That is why recipes are vital. I want you to feel good and be happy with a new body free of aches and pains. I also want contact with you to help with any questions you may have. The information I give is based on what has helped my body. My experience as a Public Health Nurse, working for the Division of Health, has made me concerned for the health of Americans. Please seek the advise of your physician before you try any of the things I have recommended.
The cost of this packet is $60.00, shipping included, paid by check or money order made out to Interiors by J.C. Ltd., P.O.Box 127, Maple Park, Il. 60151. Residents of Illinois are to apply state tax of 7%. Free commemorative tee shirt included. Shipped by USPS with insurance and tracking. Please see tee shirt information at the bottom of the About Me page. Please fill out the form on the Contact Us page prior to mailing.
Thank you, Joan.
---
MINI MURALS & SCATTERS: Kitchen displaying all removable relief murals, handpainted murals, decal murals, and botanical ovals.
Mini murals and scatters: Relief flowers, twigs with leaves, or berries with leaves – $15.00 ea. Accessories $25.00–$35.00.
Handpainted murals 12– 4" tiles $300.00. Basket, bow, or your desired relief $25.00.
6 pc. crystal decal mural on 9 pc. 8" tiles $163.00. 3 pc. set $82.00.
Surround relief 8" edging necessary to install on field tiles.
A–plain edging $8.00 per 8 inch
B–4 reliefs on A edging $16.00
C–6 reliefs on A edging $20.00.
Botanical decal murals on 5" oval $12.00.
---
CHILDREN'S RODDING: All removable relief rounds and ovals, vining with birds on walls, and window rodding, coordinated accessories. Juvenile rabbits on window rodding and removable relief tiles for surrounds. Nursery Mama rabbit wall sconce for swagging.
Children's rodding: 3-inch round–PVC or wood at current pricing, 5" ovals (shown in the box), $10.00–$18.00
Clothes hook $26.00, tissue box $35.00. Vining decoration, birds, $40.00 per 12"
Rabbits $10.00 ea. Rabbits/bows tub surround relief for 18" $30.00.
Mama Rabbit sconce: $130.00 each.
---
TOOLED LEATHER: Fabric cornice with hand tooled leather oval. Hand tooled leather 2" rodding. Leather and ceramic remvable buttons. Ceramic horse hooks. Leather belts, dog dollars and watch bands. Hand tooled leather switchplate covers.
Tooled leather: Cornice ovals and valance caps $100.00. Button covers stamped $7.00, ceramic $12.00
Leather for covered end– stamped area 5" X 12" $28.00, hand tooled 5" X 12" $38.00.
Leather finial $30.00. One side leather bracket $50.00.
Ceramic horse hooks:
3" round $30.00
5" oval $50.00.
Child's belt::: $45.00.
Watch band: $35.00.
Dog collar:::: $35.00.
Handtooled switchplate cover: $45.00.
Leather priced at current price of hide. Dyes also additional, if used.
---
ACCESSORIES: Lamps & Shades. Sink, toilet with hand painted relief-coordinated accessories.
Lamp bases–$200.00. Shades–$200.00.
Sink/toilet cover: "handpainting pattern layouts," as well as relief application $45.00.
Custom relief tiles separate matching your decor.
Accesssories
Soap dish $20.00
Dispenser bottle $25.00.
---
BAR TILES/SCATTERS: Removable relief leaves and flowers showing solid glaze colors, handpainting.
Handpoured Bars $24.00 + relief cost to be added and fired onto bar tile
Relief flowers $15.00 each
Relief Leaves $10.00
Glaze color selections shown. No order is begun until client has received and approved our rendering of actual colors of glazed sample.
---
BACKSPLASH: Kitchen with ceramic rose filled basket on window treatment, coordinated backsplash baskets-removable. Coordinated canisters, accessories. Vanity backsplash removable vining, grapes, butterflies, basket on 4 handpainted tiles. Kitchen showing white magnolia theme in removable relief ceramic handwoven basket with magnolias and vining.
Ceramic window valance basket with roses: $75.00 Cannister set with rose knobs $120.00
Tile relief basket with rose $20.00
4 tiles handpainted with basket, birds, grapes $75.00
Vining $40.00 per foot.
White magnolia kitchen basket handwoven $55.00
Vining $40.00 per ft.
Grapes or magnolias $15.00 each
---
CHILDRENS MURALS: Child's photo put into Roman shade fabric mural. "Clothesline" airbrushed wood cornice. Child's ceramic tea set. Firetruck theme "photo" window covering. Dalmation/fire theme window rodding, night lite, coordinated whimsy fire tub surround theme. "Neighborhood Friends" window rodding with lights in windows of houses and trees. Den with lights in ivy over mirror. "Dollhouse" tub surround. "Storyteller" theme window coverings with swamp photos, firefly lights and whimsy frogs on window rodding with story booklet accompanying rod. Frog sconces, handpainted coordinating fabric, bath accessories, frog night lite, tub surround frogs, frog ceramic outlet covers.
Photo murals 45" x 60" $500.00 (flat roman shade with rod included-l slide track.)
Ceramic clothes: $15.00.
Tea set 4 pc. setting– as shown– plain $50.00.
"Fire scenes" photo window coverings:
Each scene $10.00 with wood surround.
Night lite fire hydrant 10 1/2" x 4 1/2" $45.00.
Animals $10.00 – $20.00 each.
Valances to be quoted– fabric COM or ours.
Black wood bracket $30.00 each.
Spark pict./frame $25.00.
Footprints $3.00 each.
"Neighborhood" buildings of wood with lights, photos $250.00.
Double rod $125.00.
Brackets $75.00 each.
Ceramic figures $6.00–$15.00.
Dollhouse tub surround: each room $45.00
"Storyteller theme" with swamp photos, window covering with lights:
each scene $10.00 with wood surround.
Ceramic characters $10.00-$20.00. story booklet of "The Swamp Rose" included with completed window covering or separate $15.00.
Jeans valance DIY $35.00
Frog wall sconces for fabric swagging $45.00 each
Handpainted scallopped frog fabric $45.00 per 1 yd. width.
Swagging handpainted plaid fabric $20.00/12"x36".
Bath accessories:
Tissue cover $35.00
3 pc. accessories set $40.00.
Burgundy frog nightlite $35.00 height 7", length 11.5", width 6"
Tub surround frogs,umbrellas,lily pads $5.00 each.
Mr./Mrs. Frog $25.00.
Ceramic outlet covers, $20.00 each.
---
SCENERY: Mural scenes shown as chair rail also can be used for tub surrounds or backsplashes for laundry rooms or kitchens.
Chair rail scene: 9"x 9", airbrushed or handpainted background tiles (4tiles) $25.00 including sealing.
Relief tiles $5.00 each.
Mirror with mural around frame:
– Frame, sealed wood 32" x 64" $400.00 includes grout and tile sealing.
– 32" x 32" $200.00.
Mosaic areas around mirror frame: each area of 7 1/2" x 12" is $60.00.
---
CHILDRENS 3D TILE: Removable ceramic relief children's clothing for cornices, surrounds, "sayings tiles".
3" rounds $12.00 each.
5" ovals $15.00.
Clothes $15.00 each.
---
REPTILES: Ceramic python mirror, rattlesnake valance rodding with coordinated snake/leaf removable ceramic relief. Ceramic snake hook, metal brackets, snakeskins for rodding. Whimsy reptiles from "storyteller" rodding.
Mirror frame, 30" x 52" faux finish crackling, without mirror $400.00.
Python ceramic addition $100.00
Ceramic rattlesnakes $46.00 each.
Leaves on ovals $9.00
Leaf bars $25.00
Snake hook $56.00
Tanned snakeskins (all skins at current prices):
Reticulated python
Full hood cobra
Rattlesnake
Dyed whipsnake skin

may take 2 skins to cover rod.
---
DRAPE/SHOWER RODS: Painted Vir'tu Clay rodding covered with ceramic relief, rag rugs, mosaic, basketweave. Bonnet and sprinkling can finials. Ceramic button covers.
Our painted Vir'tu Clay rodding ready for installation (prior to addition of artwork) is 10' $74.00.
If a solid wood rod is desired in place of our wood filled PVC, 10' is $234.00.
Decorative brackets used as shelf supports $39.00 each.
Butterflies $5.00 each.
"Rag rug" for rodding 5" x 12" $30.00.
"Rag rug" finial $30.00.
Button end brackets $25.00 each.
Mosaic rod cover 5" x 12" $55.00.
Basketweave rod cover $35.00/ 5" x 12".
Bonnet or sprinkle can finial $25.00 each.
Ceramic button covers $12.00 each. 1 1/2"x 1 1/2".
---
SOUTHWEST: Storyteller, stair–rise Pueblo hand carved designs with relief, Kitchen with backsplash removable relief tiles. Cannisters and accessories.
Hand carved Pueblo 1800's designs $29.00 each.
6" tiles. Riser relief $5.00.
Cannisters with gecho crawlers $120.00.
Surround relief $7.00.
Storyteller $400.00.
---
There is a $60.00 minimum order required. Shipping charges and adhesives are in addition. Prior to mailing please fill out the Contact Us form information.
These before and after pictures show tiles installed with inferior adhesives in place of the adhesive we use.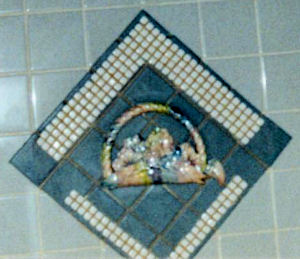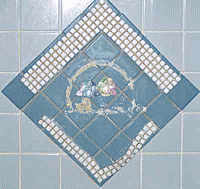 All our products are covered by these US Patents to protect them commercially.
These patents are available for sale or licensing.