Backsplash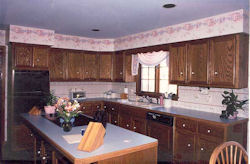 On our specified work spaces such as desk tops and countertops we place items that give us comfort or a sense of well-being. Plants, flowers, pictures of loved ones, items that reflect pleasant memories. An extension of that work top can be the wall surrounds of those spaces. They actually can become canvases of art that our eyes catch glimpses of as we work. The theme for this kitchen design was "baskets of roses". The handpainting of the backsplash tiles and accessories were coordinated with the wallcovering and fabrics selected for room.
Hover over the images to enlarge them.
Backsplash window treatment closeup on the basket.

Backsplash window treatment.

Backsplash cannister accessories.

Backsplash plate accessory.
Vines, grapes, tendrils, leaves, birds, butterflies are my "feelgood" pieces of art. I have them on my "wall canvas" in a bath I use as my dressing area pictured below. They help me prepare for each day with a pleasant frame of mind.
For 4 years I enjoyed just a left and right vining, then wanted a little more design so added the center 4 tiles, basket and additional vining. The additions took only 1 hour to apply-showing how easy it is and fun too.
Hover over the images to enlarge them.
Backsplash theme for a bathroom

Bathroom backsplash with birds in a basket

Closeup on birds in a basket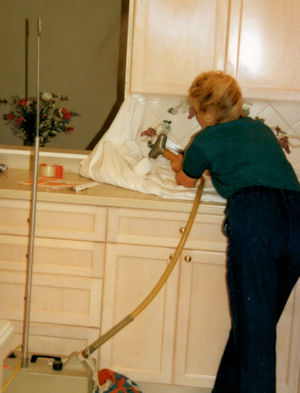 Ceramdecal tile relief is easily removed using a drapery steamer with no damage to relief or field tiles, as seen in the photo on the left. It takes 15 minutes to remove each 12" of vining when you are ready to change decor or move.
Hover over the images to enlarge them.
Backsplash theme for a kitchen soffit

Basket and vining to match the soffit

Closeup on the basket
In the kitchen of this model home, white magnolias were featured in the border used on the soffits. We designed a basket with white magnolias in the basket as well as mixed into the vining around the backsplash.
All Ceramdecal Tile Releaf products are copyrighted and/or patented.
These patents are available for sale or licensing.