Article appeared in Aurora, Illinois Beacon newspaper 7/27/02 in Daybreak Section.
For God's People
"Woman develops decorating industry patents
to support missionary work overseas"
Artist: Sixty-four-year Lily Lake resident, Joan Cowen, is an interior designer and ceramic artist who holds three U.S. patents, which she has developed as needs arose in her work.
Medium: Cowen owns and operates Interiors by J.C. Ltd, featuring the initials of Jesus Christ and they also are hers.
This is appropriate since, as Cowen says, the business was founded to help her fund Christian missionary work.
"I want the money so they can continue their work," Cowen says. "If you're really committed, you will not give up."
Background: In 1956, while yet in high school, Cowen first became impressed when missionary Jim Elliot was killed during his work with the Waorani tribe of Ecuador. His widow Elisabeth Elliot stayed on to continue their work with her husband's killers, returning to the United States only years later. A current film of this incidence is "End of the Spear," available at Amazon.com.
To help earn money to give toward this cause, Cowen first opened her interior design business in Wheaton when her children were going to school there. She and her family volunteered at Pine Trail Camp summers to serve in any capacity needed. Nursing, cooking, counseling, horse care, anything just to serve. She also volunteered at a local mission, WaySide Cross Mission, Aurora, IL., to check health needs of the homeless. Counseling and nursing also as a volunteer at Riverwoods Christian Center Summer Camp, St. Charles, IL.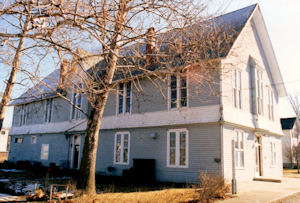 Cowen now owns the old Town Hall building in Maple Park and uses it as a studio. (Address is PO Box 127, 505 Main St, Maple Park, IL 60151.)
Cowen supports missionary aviation through the Moody Bible Institute and native missionaries in Asia, specifically in India, where only natives are allowed, Afghanistan and Pakistan. In some countries workers go undercover to try and protect their lives.
"Missionaries know their lives are in danger and they don't care because they are so committed," Cowen says.
In November 1990, Cowen noted in her Bible a request for her own special creation that would help her earn funds to give to these causes.
In September 1992, she was bound by a contract to finish a ceramic tile project for a client when her tile setters stopped working. To make the deadline, Cowen learned to set tile herself and found she loved it. She began teaching herself to make ceramic tile and developed a technique for making three-dimensional flowers, fruit or other motifs to be added to ceramic field tiles to use in kitchens and baths. An Italian tile dealer saw her work and told her no one in the world was doing that technique and that she should protect herself by filing a patent.
Cowen traveled to Alexandria, Va to the U.S. Patent and Trademark Office to do the patent search herself and to file the application for the patent. After two years in February 1996 the patent was received for her first idea. It is the only patent in the world for three–dimensional ceramic tile, Cowen says.
Having long forgotten her note written in her Bible, Cowen found it later and said to herself, "Oh my gosh, that prayer was answered!"
The second patent was developed when Cowen discovered clients wanted to take their beautiful and unusual tile with them when they moved. "Is there a way to remove it?" Cowen was asked.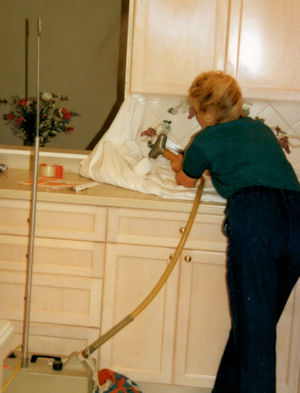 So Cowen got to work. She designed a steam tub unit in which she installed some of her tiles in her own home to use as a trial for the strength of the adhesive she uses and found that 220-degree Fahrenheit steam from a drapery steamer would allow her to remove the tiles in minutes with no damage to either the relief tiles or the field tiles.
Clients who wanted bunnies for their baby's rooms, but couldn't afford to break it all up in five years when the child had outgrown them, could now decorate at whim. Cowen can easily remove the bunnies and install race cars, etc. whatever the new design theme wanted to satisfy a growing youngster's taste.
This method of removing decorative tile was awarded a patent in spring of 2001. Cowen then invented a way to put a slide track to hold a plastic shower curtain/drapery along a PVC pipe, an idea that was issued a patent December 2002. The PVC pipe can then be faux finished and have coordinated relief tiles matching the tub surround added to decorate it. These rods can also be wood. They are used for draperies in any room in the house, for example children's rooms.
On her work: An art Gallery in Geneva, Cowen is currently showing, a mirror with a decorative wood frame with ceramic green tree python snakes. It is dedicated to Jim and Veronica "Roni" Bowers who were American missionaries in Peru. Roni and the Bowers' baby Charity were tragically killed while doing their work there. The story was featured on ABC Primetime with Diane Sawyer and is chronicled by mission colleague Kristen Stagg in her book "If God Should Choose" published by Moody Press, available at www.amazon.com.
Cowen incorporated the python because it is a native snake to the Amazon. The mirror shown in Geneva is similar to a mirror created for a client's "safari room."
Cowen is also showing samples of her ceramic tile and drapery rod with decorative rattlesnakes.
Cowen can be reached at Interiors by J.C. Ltd. by mail or email.
The Head Start in Woodstock, IL has an entryway and mirror decorated especially for the children there by Cowen. People are welcome to come in and look anytime, Cowen says.
What's ahead: Cowen is looking for a marketing whiz to help her promote her products. And who knows what she will develop next. Whatever it is, though, Cowen is devoted foremost to spreading one cause.
"If they would come to know Him, that would be the response that I'd want," Cowen says.
Article written by Carol Hegarty
4/7/13 — The two organizations I primarily support are Gospel for Asia at www.gfa.org and Moody Bible Institute aviation program at www.moodyav.org. It was Dwight L. Moody, the founder of Moody Bible Institute, who made a statement that intrigued me when I made the decision to go into business: "The world has yet to see what God can do with and for and through and in a man who is fully consecrated to Christ."
Thank you for taking time to read this.....I cannot spell S_CCESS without U.
Sincerely,
Joan Cowen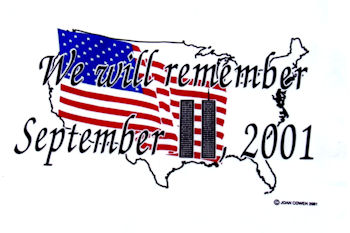 I am very proud to be an American. Our country is known for reaching out to those in need. When Americans died on 9-11, it forever changed our country-we would always remember this day. The day after this trajedy I designed a tee shirt in memory of the Americans who sacrificed their lives. As a gift for you, I will enclose one of these tees with each initial $60.00 order. If you would like a tee without placing an order, It will cost $25.00, shipping included. Illinois State tax of 7% applies to all orders placed within Illinois. Please specify Medium, Large, or Extra Large. Please send check or money order for items ordered. Shipping by USPS includes insurance and tracking.
All Ceramdecal Tile Releaf products are copyrighted and/or patented.
These patents are available for sale or licensing.