Drape & Shower Rodding
A well designed window is a delight to have in a room. It makes a subtle, silent statement about the owner as well as the designer. Great satisfaction came to me when 4 of my 6 window designs were selected for the "Idea Book ll " of top U.S. designs sponsored by the Window Fashions Magazine. Overseeing a very busy retail interior design store left me with no time to enjoy the fun of entering a contest that year - so a client who wrote for the Chicago Times newspaper asked if she could assume that responsibility completely. It turned out to be fun for both of us. As a result of enjoying designing beautiful windows I am very grateful to be able to add to the marketplace a very attractive, easily operated drapery rod. Below are the four winning rooms added to the "Idea Book II".
Hover over the images to enlarge them.
Window design selected for the Idea Book 2.

A second window design selected for the Idea Book 2.

A third window design selected for the Idea Book 2.

A fourth window design selected for the Idea Book 2.
Wheelchair clients find ease in the smooth operation by using wands that slide very easily in the track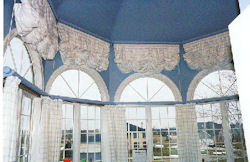 A good test for these rods was an installation of 10 of our rods in the bedroom of an 11 year old in 1998.
To date, no complaints of any problems. Her rods have glow in the dark ceramic stars covering the rods as well as sprinkled all over her tall ceiling for her to enjoy when the lights go out. We named this rod Painted Vir'tu Clay©, virtu meaning "excellence or merit in an object of art because of its workmanship, rarity, antiquity, or the like." This patented PVC rod is shown covered with ceramic rabbits, leather, snakeskin, gold and silver leaf roses, mosaics throughout this website. Whatever you design for your decor, we will send renderings for approval prior to fabrication to assure what you order is what you have designed.
Rod supports are also very important to a beautiful window design. Our wood brackets are easily installed and are custom designed to go with each rod for complete coordination as one beautiful unit. Pictures shown are our brackets also used as shelf supports.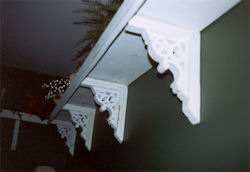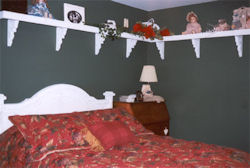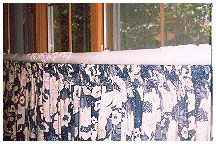 This cafe rod shown is covered with bisque [fired clay-unpainted] butterfies which are applied to rod with our adhesive. The brackets, rod, and relief are painted white.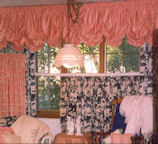 We can use your paint, selection of relief, and ship unfinished, what ever you specify. We are 100% custom. One rod can be operated as a left, right, or center stack to provide ventilation, privacy, and light. This is not a traverse rod, this is a slide track operated by hand with wands. Even our 3" painted Vir'tu rods, used as a cafe, can have a double slide track to accommodate a sheer under the decorative overdrape to provide privacy when a dark gloomy day needs as much light as possible.
Attractive rod brackets are very important to a tastefully designed window.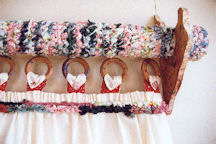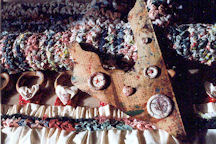 To coordinate with our crocheted rag rugs, pillows and seat covers, we apply hand crocheted rag rugs to our 3" Painted Vir'tu Rods and projection end covers. The brackets, ceramic buttons [hearts and circles in this design] and wood rings are dipped in floating swirls of paint color coordinated with rag strips.
"Wings and Things" is the name we give to our mosaic rods. Your custom colors are painted on our hand-poured tiles, along with butterflies, and pots of flower tiles. We fire, glaze, fire, then smash everything in preparation for application to rod and grouting. The same process we follow to make a coordinated backsplash or tub surround mosaic mini-mural.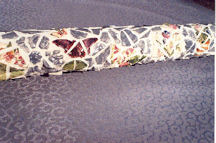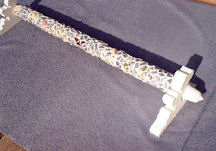 Hover over the images to enlarge them.
Tub surround removable relief tiles #1.

Tub surround removable relief tiles #2.

Tub surround removable relief tiles #3.

Tub surround removable relief tiles #4.

Tub surround removable relief tiles #5.

Mosaic floor layout.

Wall decorations and accessories #1.

Wall decorations and accessories #2.

Wall decorations and accessories #3.

Wall decorations and accessories #4.
These ceramic pieces were used along with 3" blue and white mosaic floor tiles to decorate this small bath and to coordinate with the matching wallcovering and fabric. We achieved a sparkling pearlized glaze on the relief tiles by using lusters and mother of pearl. To decorate our Painted Vir'tu Clay slide rod we cut a 2 inch strip of floor mosaic tiles and applied them with our adhesive to the wood painted rod. No screws were used for application of any wall accessories. Our adhesive holds everything securely until removed with a drapery steamer with no damage to tiled walls.
Wicker rooms need their own rodding covered with a basketweaving that can be painted white or left natural to match coordinated bracket. Double or single slide for drapes and sheers. Finials are fun additions to your completed rodding. We have hundreds of molds to put together any finial needed for your special rooms.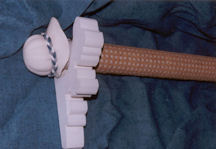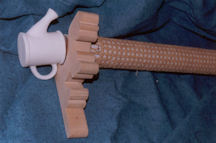 Our ceramic buttons are used on clothing, pillows, tabs, whimsical, whatever your design needs dictate and in your custom colors.
These patents are available for sale or licensing.